CREDITS
Performed by Jean-Paul Mullét and Hilary June Hart

Written by Ron Fromstein and Allan Turner
Directed by Bruce Hunter
Stage Managed by Pola Stankovic
Costume design by Andrea Ouellette

Poster by Kurt Firla
Photo by Jeremy Gilbert
Produced by Allan Turner
Media Contact: Pola Stankovic

BIOGRAPHIES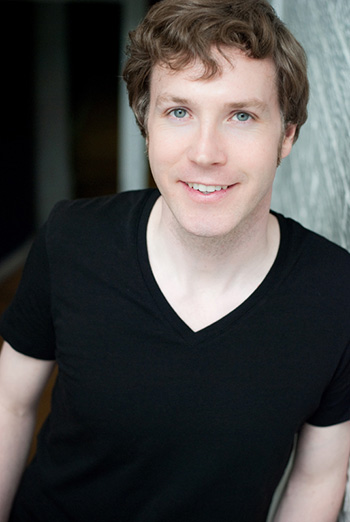 ALLAN TURNER / JEAN-PAUL MULLET (Producer/Co-Writer/Performer)
Allan Turner is a Canadian writer, director, teacher, actor, voice actor, improviser, comedian, and one of the top clowns working in Toronto today. He was voted Toronto's 'Best Male Improviser' in the 2015 NOW Magazine Reader's Choice Poll.
For over 16 years and still going, Allan has performed as his alter ego, the zombie clown Jean-Paul Mullét. Mullet appears regularly in the Toronto Festival of Clowns and Lunacy Cabaret, the longest running circus cabaret in Toronto. Since 2011, he has hosted the hit Mullet's Night Show, a live comedy variety show done in the style of a late night television talk show. The tragicomedy Mullet's Make-a-Play premiered in the 2011 Toronto Fringe Festival to rave reviews. In 2012, he headlined at The People's Improv Theatre in NYC to a packed house. Mullet's Dinosaur Adventure, a family friendly and educational show, sold out at the 2013 Toronto International Circus Festival.
For the 2013 Toronto Fringe, Allan wrote and starred in Sour Grapes, a dark comedy featuring all new characters and clowns that the NOW Magazine awarded Outstanding Ensemble and said included "moments of brilliance."
Allan improvises regularly with his troupe Assface and as part of the cast of Belleville-ville. He co-hosts Lunacy Cabaret as The Moon. He works with Zero Gravity Circus, is a Theatresports and Bad Dog Theatre Company alumnus, and continues to be a fixture in the Toronto comedy scene.
Allan conceived of and co-wrote the viral and multi award-winning A Tale of Momentum & Inertia, an animated short directed by Kameron Gates and produced by Portland-based animation studio HouseSpecial. Allan has also written and published his own comic books and web comics, and has written and directed for video games, museums, and travelling school shows.
Allan trained in the Pochinko method of clown through mask with John Turner of Mump & Smoot at The Manitoulin Conservatory for Creation and Performance and Sue Morrison at The Theatre Resource Centre. He trained in improv at The Second City Toronto. He studied voice acting with Melissa Altro (Camp Lakebottom, Arthur) and Stevie Vallance (Madeline). He has an Honours BA in Creative Writing from York University and studied creative writing for children at the University of Toronto. Additional education includes a comedy writing intensive with Steve Kaplan (HBO) and workshops on writing for animation and comics with Matthew Luhn (Pixar), John Kricfalusi (Ren & Stimpy), and Ty Templeton (DC Comics).
Allan teaches clown and improv at The Social Capital Theatre and independently. He recently joined the Toronto Festival of Clowns as an Artistic Director and is helping to create the 2016 Festival.
Television credits include Orphan Black (Space/BBC America), Zoink'd (YTV), the Canadian Comedy Award winning This Movie Sucks (CHCH), and Ed & Red's Night Party (CityTV/G4), where Mullet was a recurring guest star.
For more about Allan, visit www.AllanTurner.net.
Photo by LV imagery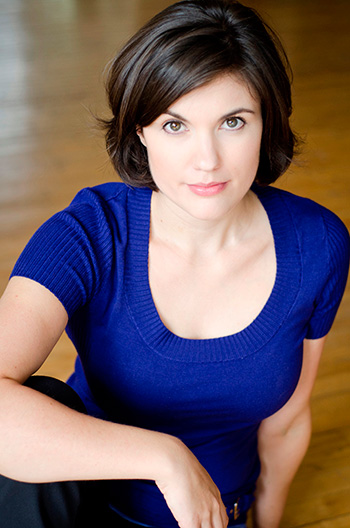 HILARY JUNE HART (Performer)
The name Hilary is derived from the Latinate 'Hilarious'. She lives up to her moniker by making audiences laugh with her, wit, charm, and musicianship. Hilary is a Toronto based actor, singer, and musician. She plays a wide range of instruments including piano, trumpet, ukulele, guitar, and accordion.
Mullet's Ghost Story is Hilary's third appearance in the Toronto Fringe Festival. Her past Fringe hits include Killing Game with RedHanded Theatre directed by Rosanna Saracino and Love is a Poverty You Can Sell II with Soupcan Theatre directed by Sarah Thorpe. Hilary performed in Heart of Steel with Aim for the Tangent Theatre in the 2016 Next Stage Theatre Festival.
Last fall she starred in the critically acclaimed extended run of Ring of Fire: The Music of Johnny Cash at Magnus Theatre. Select theatre credits include The Magic Flute (Opera York), Rubi (Resonance Theatre), Prayers for the New World (Glasswater Theatre), Equus (Hart House Theatre), and Woody Allen's Death: A Play (Art & Lies Productions).
Along with performing Hilary enjoys teaching piano, voice, and ukulele lessons.
For more about Hilary, visit www.HilaryJuneHart.ca.
Photo by LV imagery
BRUCE HUNTER (Director)
Bruce Hunter hails from Calgary, Alberta where he studied under the guidance of Theatresports guru Keith Johnstone. In addition to playing Theatresports during the early years of Loose Moose Theatre, he explored the dramatic realm during the inception of the Edmonton Fringe by performing with
companies such as One Yellow Rabbit and Ikarus Players.
Since moving to Toronto in 1980, Bruce Hunter has been recognized for his further work in theatre and for his performances in dozens of film projects, television shows and commercials, both in front of the camera and behind. Plus, he's taught literally thousands of improv students.
Toronto Fringe audiences will remember Bruce for his work in Artifacts (2009), and as writer/lead in The Getaway (2010). He directed Allan Turner's Sour Grapes (awarded Outstanding Ensemble by NOW Magazine 2013) and A Freudian Slip of the Jung (Best of the Fringe 2011).
Mullet's Ghost Story isn't Bruce's first site specific play. He previously wrote, directed, and starred in Dine Her, a romantic comedy set in the zombie apocalypse, that sold-out its extended run at the George Street Diner.
He's appeared in such TV series as Puppets Who Kill, Robocop, and The Red Green Show, and in films including Mean Girls, Good Will Hunting, and The Dream Team.
Bruce has received numerous awards for his acting work, including a Gemini Award for voice work on Atomic Betty (2009) and two Canadian Comedy Awards: Best Improv Troupe (2007) as part of Illustrated Men, and Best Male Improviser (2001).
Photo by FeeGunn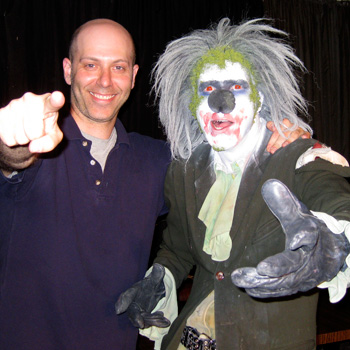 RON FROMSTEIN (Writer)
Ron Fromstein is a writer born and bred in Toronto.
On the Fringe circuit, he has had successful runs with shows such as One in a Million (Patron's Pick, 2012 Toronto Fringe); Dianne & Me (Best of Fringe, 2010 Hamilton Fringe, winner of Hamilton Fringe Playwriting Competition); The Big Smoke (*****, Uptown Magazine, plus a successful national tour), Ben & Jess of the Apocalypse (sold out run, Saskatoon Fringe); and Zach Zultana (*****, Edmonton Sun, plus a successful national tour).
On the children's theatre circuit, Ron's show Two in the Coop has been touring summers for the last several years on the east coast with Halifax Theatre for Young People. To date, it remains one of the few childrens shows to have been invited into the Magnetic North Theatre Festival (2014).
Awards include, but are not limited to: the Canadian National Playwriting Competiton (three time winner), the Ottawa Little Theatre Playwriting Competition (four time winner-finalist), the Toronto Fringe 24 Hour Playwriting Competition (six time winner-finalist), and the Hamilton Fringe New Play Contest (seven time winner-finalist).
His articles, poetry, and non-fiction have appeared in the Globe & Mail, the Canadian Jewish News, Lichen, the White Wall Review, and Eye Magazine.
Ron is also a published author, in anthologies such as One for the Road (Signature Press, for Dianne & Me), The Boston Theatre Marathon Anthology (for Eggs, Toast & Coffee), and the just-released Long Story Short (Playwrights Canada Press, for Troupe).
In Toronto, he is frequently involved with UNIT 102 in a variety of capacities, recently as a member of their experimental inaugurul playwrights unit.
POLA STANKOVIC (Stage Manager)
Pola has her Ph.D. from York University in Theatre and Performance Studies and has a particular interest in European influences on actor training in Canada and the influence of style on the aesthetics of production and performance, and on the imaginative experience of the audience.
Pola has trained classically as an actor for 6 years with the Toronto Theatre Academy under Tim Kachurov, a small independent troupe whose work is rooted in European schools of thought--external and imaginative techniques for the voice, speech, and movement.
Through her training, Pola has worked as a Stage Manager for Solar Stage Children's Theatre, has had the privilege of working with world renowned clown Nikolai Terentiev (Slava's Snowshow) in the Booff Show, and has been fortunate enough to have worked with Byron Laviolette, Amy Lee, and Heather Marie Annis as a stage/tour manager and production assistant for Morro and Jasp Go Green, Morro and Jasp Gone Wild, and Morro and Jasp: Behind the Nose, as well as a fellow clown at the Toronto Festival of Clowns for the last 5 years.
Most recently, Pola considers herself lucky to be able to work with Allan Turner and his popular clown Mullet on his Fringe show. Previously, she has performed with him regularly in his monthly Mullet's Night Show and will be joining him on stage for the 2016 Toronto Festival of Clowns. Pola is looking forward to great fun and imagination with Mullet and other guests!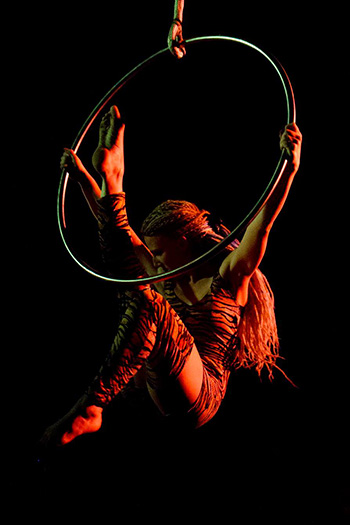 ANDREA OUELLETTE (Costume Designer)
Andrea Ouellette was Costume Designer for Allan Turner's 2013 Toronto Fringe production, Sour Grapes, for which she created "colourful characters...imaginatively outfitted" (NOW Magazine). Previously, she stage managed The Enchanted Crackhouse, an Alley Play in the 2012 Toronto Fringe, and Mullet's Make-a-Play, Allan Turner's first Toronto Fringe production, in 2011.
Currently she works full-time for Zero Gravity Circus and performs regularly as an aerialist in Lunacy Cabaret.
Andrea was born in Waverley, Nova Scotia, and demonstrated her love of theatre at age of nine, when she first began working backstage at shows. At age 14, she joined Atlantic Cirque in Nova Scotia and trained on various circus apparatus, eventually focusing on trapeze.
Despite the fact that everyone is telling her she has already done so, Andrea is still determined to run away and join the circus.
Photo by Jeremy Gilbert